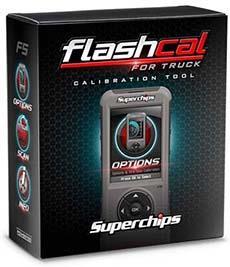 If you are a truck owner who is looking for a device to calibrate your large aftermarket tires, read/clear trouble codes, adjust your speed limiter and more, look no further. The Flashcal for Truck is a product designed to give premium features and calibration tools to truck owners at a great price. The days of clunky, outdated calibration tools are over as the Flashcal now brings a premium device and a simple, yet powerful, user interface to the market.
  
Why do I need Flashcal?
Did those new wheels or gears you installed on your truck throw your speedometer off? The Flashcal for Truck is your answer. It's a handheld automotive calibration device that adjusts your truck's speedometer for aftermarket wheels, tires, and gears.
  
Is it Easy to Use?
Flashcal is big on easy. Just plug into your truck's OBD-II port and select your new tire size or gear ratio, and your truck is calibrated! Installation is simple, no need to visit a shop or bring your vehicle back to a dealership.
  
Features & Coverage
With the Flashcal you also get useful functions like the ability to clear and review check engine lights and do real-time data monitoring over the OBD-II port. If you need to adjust the options on your Ford, GM, and Dodge/RAM truck, there's no better option that than the Flashcal!  
Corrects speedometer for tire upgrades between 26" – 42" *
Speedometer recalibration for gear/axle swaps *
Reads and clears diagnostic trouble codes
Digital Battery Voltage Display
Real-time Data Logging
Real-time Data Monitoring
TPMS Options *
Speed/Rev Limiter *
Idle Up *
Upgradeable to Flashpaq with Performance Tuning **
 *Features may vary by make, model, year.
**Upgrade to Flashpaq not available on 2015+ Ram Hemi gas and 2013+ Ram Cummins diesel.