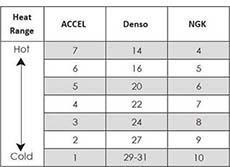 Considerations in choosing the heat ranges:
If an engine is normally operated at low speeds or at low temperatures then, a hotter heat range may be required to keep the spark plug from fouling. If the engine is modified, operates at high RPM, under heavy loads or at high temperature then, a colder heat range spark plug will be necessary to helt prevent detonating or pre-igniting.
All engine modifications which increase cylinder preassure typically increase cumbusted temperatures, and therefore, increasing these temperatures will require a colder heat range. So, if you think you need a higher octane fuel to keep the engine from pinging, you will probably need a colder plug as well.
It is important to follow the cylinder head manufacturers recommended torque specification for the spark plugs. It is also a good practice to put a small amount of anti-seize compound on the treads, but be sure that it does NOT insulate the spark plug from the cylinder head.
---