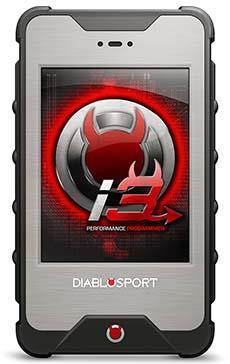 If you are a horsepower junky and you need a fix, look no further. Whether you have a Chrysler, Ford, or GM vehicle in your driveway, DiabloSport's inTune i3 Performance Programmer is an easy way to boost power and torque without even popping the hood! You get a performance tuning upgrade that makes your throttle more responsive, optimizes drivability, improves fuel economy potential and increases horsepower and torque!  The inTune i3 programmer is pre-loaded with dyno-tested performance programs designed specifically for your ride. Within minutes, you could add horsepower and torque with no other tools required!
inTune i3 Features:
– New "Easy Tune" Mode for Simple Installation
– Dyno Tested Performance Programs
– Blazing Fast Vehicle Read/Write Times
– Windows, Mac OSX Updates
– OBD-II Data Logging
– Read and Clear DTC
– Purchase Multi-Vehicle Licenses
– 50-State Legal Tuning Available
50-State Compliant Tuning
We understand that there are an increasing number of counties and states that are requiring emissions testing.  We've developed the i3 to include 50-State legal tuning covered by a CARB Executive Order number.  Now there is no need to fear your SMOG testing center as you can pass those tests while tuned with Power You Can Feel from DiabloSport.
Platinum i3
The Platinum i3 is designed for those who want the best of both worlds, pre-loaded, high-performance tunes in addition to custom tuning capability.  The i3 Platinum is already equipped with some of the best tuning right out of the box but we know our customers like to bolt-on upgrades and extract every bit of horsepower out of their vehicles.  That is where CMR custom tuning comes in.  Our nationwide network of CMR custom tuning dealers can build tunes for your specific ride on a dyno or by using the built-in data logging features of the i3.  Now you can have great tunes for now, and custom tunes for when you take your ride to the next level with the Platinum i3.
*The Platinum i3 tuning line is not 50-State Compliant
Multiple Vehicle Licenses
The Platinum i3 can tune your whole driveway!  With the i3's additional vehicle license options, you can tune multiple vehicles with one device.  If your i3 is currently tuned into your Chevrolet Camaro, but you also want to tune your Silverado, upgrade your i3 with an additional license through our Ignition Update Software and you can be tuning both vehicles in no time.  The additional i3 licenses can program any make or model that the i3 supports so you can tune basically anything.  Learn more about the i3 licenses here.
Warning—Only standard inTune i3 versions can be shipped to California.  The Platinum i3 product lineup is not for sale or use on pollution controlled vehicles in the State of California.
Warning—2015-2017 Chrysler vehicles require a DiabloSport Modified PCM be installed prior to tuning.