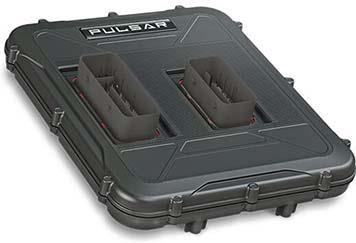 The Pulsar for the 2017-2022 GM 6.6L Duramax is the clear-cut winner for emissions friendly L5P tuning. Stop dealing with wires, expensive ECU unlocks and swaps, fuel pressure boxes, and other lackluster products. Pulsar is the best performance tuner to ever hit the market and is leading the way for ease of install, performance gains, and the only product available that uses steering wheel controls to change power levels while driving, "Shift-On-The-Fly". Using live data to change and adapt the Pulsar adjust signals making it the best-in-class winner with features and POWER!
The Pulsar inline module has made waves among truck owners. The industry-exclusive technology, now available via Pulsar, has totally changed the game when it comes to adding performance and keeping the ECU on the truck. No mail-in unlocks, no cross-shipment, or hassle. Pulsar supplies instant power, on the fly, with no flash tuning.
The Pulsar is an in-line computer that connects directly to the vehicle PCM, with no additional wiring harness. By connecting directly to the truck's PCM, Edge has the ability to control the vehicle to optimize performance gains, throttle response, mileage, tire size, fueling, high-idle, and more. To make things even better, the Pulsar offers 5 performance levels that can be switched on-the-fly by using the vehicle cruise control "+" and "–" buttons on the steering wheel. The active power level (0-5) will be displayed using the speedometer gauge. Simply change performance levels to display what power level or hit cancel on your cruise control to display the current power level.
Pair Pulsar with an Insight CTS3 for even more control and special features!