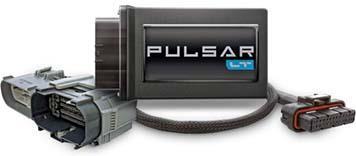 The Pulsar LT is a one-of-a-kind in-line module that offers feature combinations never before seen in a standalone module. Adjust throttle response levels, tire size adjustment, TPMS options, speed limiter, manual regeneration and more without tuning or modifying the vehicle. The Pulsar LT connects directly to the vehicle computer system and makes its changes in line with the other modules. Utilizing steering wheel controls, Pulsar LT owners can make all the changes they desire at any time, driving or parked.
The Pulsar LT is, in truth, multiple products in one. Sure, you can go out and purchase a throttle booster, and then a separate calibration product to adjust tire size and TPMS, and possibly find a custom tuner to adjust the speed limiter. Why clutter your vehicle with expensive products that only provide part of the solution you are looking for. The Pulsar LT delivers serious options, seamless control, and does so affordably, with a single easy-to-use solution. Now available for 2014 and new GM Gas and Diesel applications.
The Pulsar LT installs in minutes without tools and requires no PCM modification or alteration. It is a simple plug-and-play installation using factory connectors. Remove the product with no tuning traces left in the vehicle to maintain the factory warranty.