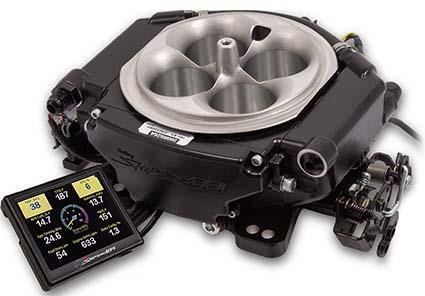 Sniper EFI XFlow
The 4 injector version is perfect for high horsepower N/A combo's, easily supporting up to 800HP.
For the 4150 Blow-Thru crowd, the 8 injector version supports up to 1375HP.
Put your trust in the tried and true Sniper EFI Closed Loop and Learn Fuel strategy to take control of your engine!
1375 Horsepower Support - 8x 120Lb/HR Injectors - 900CFM!


Integrated Sniper EFI ECU
2.5Bar MAP Sensor supporting up to 21.5 psi of boost, right out of the box.
Only 4 Wiring Connections Required! (Battery +, Battery - , Switched Ignition & RPM)
Built in Single stage progressive nitrous control for bottle fed power.
Three Programmable 0-5V Sensor Inputs for Oil/Fuel/Dome or Nitrous Pressure Sensors
Self-tuning ECU means you don't have to be a computer/tuning wiz to have EFI!

---